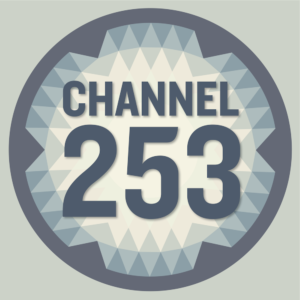 Channel 253 seeks to assemble the best podcasts about Tacoma. Whether about politics, news, culture, food, sports, we want to tell the story of Tacoma one episode at a time.
Meet the team
Marguerite Martin – Co-Founder and Visionary
As the creator of the Move to Tacoma podcast, the founding podcast of Channel 253, she is "pod auntie" to everything we're doing at Channel 253.
Erik Hanberg – Co-Founder and Publisher
If it's behind the scenes, Erik is the one probably doing it.
Doug Mackey – Co-Founder and Sound Engineer
Doug lends his studio at Moonyard to Channel 253 and makes sure we all sounds amazing. If we ever sound like chipmunks, you'll know we've made Doug angry.
Credits
In addition, each podcast or event takes many people to make happen.
Channel 253
Cover design: Mary Holste
Cover illustration: John Prosser
253 Dial Tones Introduction: Doug Mackey
Move to Tacoma
Host: Marguerite Martin
Theme: Doug Mackey
Sound: Doug Mackey
Cover Art: Mary Holste
Nerd Farmer
Host: Nate Bowling
Theme: Doug Mackey
Sound: Doug Mackey
Cover Art: Tram-ahn Nguyen
Citizen Tacoma
Host: Jenny Jacobs
Co-host: Doug Mackey
Theme: Doug Mackey
Sound: Doug Mackey
Cover Art: Mary Holste
Producer: Erik Hanberg
Interchangeable White Ladies
Hosts: Hope Teague-Bowling and Annie Jansen
Theme: Doug Mackey
Sound: Doug Mackey
Cover Art: Tram-ahn Nguyen
Flounders B-Team
Hosts: Tim Hamilton, Kevin Zamira, Steve Ketelsen, Cat Peterson
Sound: Steve Ketelsen
Taco-Man
Host: Taco-Man
Theme: Doug Mackey
Sound: Doug Mackey
Cover Art: Sean Alexander
Producer: Erik Hanberg
Adult Civics Happy Hour
Producers: Marguerite Martin, Nate Bowling, Hope Teague-Bowling, Lindsey Stevens, Erik Hanberg
Sound: Doug Mackey
Live Streaming: Adam Wygle